THINKING WITH THE INSTITUTIONAL BYPASS?
Palavras-chave:
Institutional Bypass
Resumo
Sometimes the most promising path to changing an entrenched system is to maneuver around it. Or so argue law and development scholars Mariana Mota Prado and Michael J. Trebilcock who develop the idea of an institutional bypass—an alternative pathway to perform some function or service provided badly by the state. With the institutional bypass, Prado and Trebilcock advance an approach to reform that is incremental, modest, dynamic, contextual, and revisable. And they advance an approach to political governance that favors regulatory competition, decentralization, and flexibility. Through richly descriptive case study analyses, Prado and Trebilcock also illuminate the differential material consequences of specific institutional bypasses—they recommend the bypass's procedural features if they work on the ground in the eyes of their users.
Downloads
Não há dados estatísticos.
Referências
Cohen, Amy J. 2009. "Revisiting against Settlement: Some Reflections on Dispute Resolution and Public Values Symposium - Against Settlement: Twenty-Five Years Later." Fordham Law Review 78 (3): 1143–70.
Cohen, Amy J. 2018. "Transnational Legal Methodology and Domestic Markets for Food." Transnational Legal Theory 9 (3–4): 361–70.
Cohen, Amy J. 2019. "Moral Restorative Justice: A Political Genealogy of Activism and Neoliberalism in the United States." Minnesota Law Review 104 (2): 889–954.
Cohen, Amy J., and Jason Jackson. n.d. "How Markets Make States: Multinational Supermarkets in the Indian Bazaar (under Review)."
Fiss, Owen. 1979. "The Forms of Justice." Harvard Law Review 93 (January): 1–58.
Cohen, Amy J., and Jason Jackson. 1984. "Against Settlement." Yale Law Journal 93 (January): 1073–90.
Prado, Mariana Mota, and Michael Trebilcock. 2019. Institutional Bypasses: A Strategy to Promote Reforms for Development. Cambridge: Cambridge University Press.
Ramraj, Victor V. 2019. "International Institutional Bypasses and Transnational Non-State Regulation." Transnational Legal Theory 10 (3–4): 295–317. https://doi.org/10.1080/20414005.2019.1644796.
Resnik, Judith. 2003. "For Owen M. Fiss: Some Reflections on the Triumph and the Death of Adjudication." University of Miami Law Review 58 (January): 173–200.
Sabel, Charles. 2012. "Dewey, Democracy, and Democratic Experimentalism." Contemporary Pragmatism 9 (2): 35–55.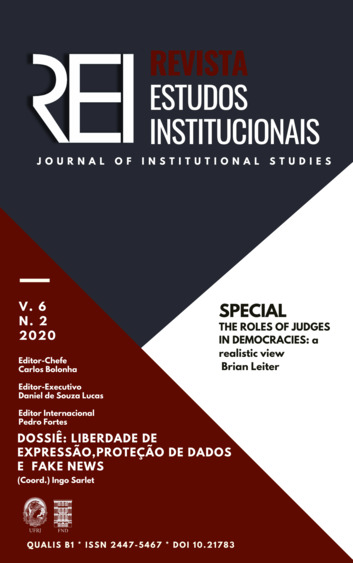 Downloads
Como Citar
Cohen, A. J. (2020). THINKING WITH THE INSTITUTIONAL BYPASS?. REI - REVISTA ESTUDOS INSTITUCIONAIS, 6(2), 718–722. Recuperado de https://www.estudosinstitucionais.com/REI/article/view/523
Licença
Autores que publicam nesta revista concordam com os seguintes termos:
Autores mantém os direitos autorais e concedem à revista o direito de primeira publicação, com o trabalho simultaneamente licenciado sob a Licença Creative Commons Attribution que permite o compartilhamento do trabalho com reconhecimento da autoria e publicação inicial nesta revista.
Autores têm autorização para assumir contratos adicionais separadamente, para distribuição não-exclusiva da versão do trabalho publicada nesta revista (ex.: publicar em repositório institucional ou como capítulo de livro), com reconhecimento de autoria e publicação inicial nesta revista.
Autores têm permissão e são estimulados a publicar e distribuir seu trabalho online após a publicação na revista.