SHIFTING THE LEGAL BORDERLANDS OF RULE OF LAW PROGRAMS - BRAZILIAN COOPERATION AGENCY (ABC) AND PUBLIC DEFENDERS' OFFICE IN EAST TIMOR
Palavras-chave:
Rule of Law programs, Legal Pluralism, South-South Cooperation, Brazilian Cooperation Agency (ABC), East Timor, Public Defenders' Office
Resumo
n this paper the author argues that the traditional international legal assistance (coined 'rule of law' assistance) follows a global template- sourced on the legal orders of countries that constitute the Global North.  Under the rule of law (RoL) programs - legal procedures and institutions that are same as the donor nations are transferred to the recipient nations.  This is because formal laws and institutions are seen as fundamental for economic prosperity and stability, and 'copy-pasted' as solutions separated from contexts. But in recent years with the emergence of non-traditional donors under the 'South- South' cooperation, following an approach of 'mutual cooperation' has challenged the traditional mode of international assistance on the RoL.  These countries accommodate the existence of legal pluralism, as well as adopt a slower and prolonged approach by building networks with local stakeholders drawing on their post-colonial and development trajectories. Using the case study of Brazilian legal assistance through the ABC in East Timor within the Public Defenders' Office, the author shows how non-traditional international donors has subverted the traditional model of 'rule of law' assistance. This paper bridges the gap between the scholarship on the South - South cooperation within development studies and the legal scholarship on law and development focusing on the rule of law reforms. Using empirical data, the paper demonstrates the distinctive approaches undertaken by the Brazilian international actors within East Timor by underlining how dominant rule of law reforms push crucial local interests to the borders/peripheries. Further, this paper poses questions on the universality of the rule of law reforms advocated by traditional donors by demonstrating the emergence of peripheral interests from the engagement of donors from the Global South
Downloads
Não há dados estatísticos.
Referências
Books
Alex Bellamy and Paul Williams, Understanding Peacekeeping (Cambridge and Malden: Polity Press 2011).
Antony Anghie, Imperialism, Sovereignty and The Making Of International Law (CUP 2005).
B.A. Roberson, 'Law, Power and The Expansion of International Society' in Cornelia Navari (ed.) Theorising International Society: English School Methods (Palgrave Macmillan 2009).
Charles T. Call and Cedric de Coning, Rising Powers and Peacebuilding: Breaking the Mold (Palgrave Macmillan 2017).
Jothie Rajah, Authoritarian Rule of Law: Legislation, Discourse, And Legitimacy in Singapore (CUP 2014).
Julio Faundez, 'Legal Technical Assistance' in Julio Faundez (ed.), Good Government and Law: Legal Institutional Reform in Developing Countries (Palgrave Macmillan UK 1997).
Laura Grenfell, Promoting The Rule Of Law In Post-Conflict Societies (CUP 2013).
Linn Hammergren, Justice Reform and Development: Rethinking Donor Assistance to Developing and Transition Countries (Routledge 2014).
Mark Sedra, Security Reform in Conflict- Affected Countries: The Evolution of a Model (Routledge 2017).
Martii Koskenniemi, 'Hegemonic Regimes' in Margaret Young(ed.) Regime Interaction in International Law: Facing Fragmentation (CUP 2012).
Martii Koskenniemi, The Gentle Civiliser Of Nations: The Rise and Fall Of International Law 1870-1960 (CUP 2001).
Peggy Levitt and Sally Merry, 'making Women's Human Rights in the Vernacular: Navigating the Culture/ Rights Divide' in Dorothy Hodgson (ed.), Gender and Culture at the Limit of Rights (University of Pennsylvania Press 2011).
Scott Newton, 'The Dialectics of Law and Development', in David Trubek and Alvaro Santos (eds.) The New Law and Economic Development: A Critical Appraisal (CUP 2006).
Stephen Humphreys, Theatre of The Rule of Law: Transnational Legal Intervention in Theory and Practice, (CUP 2010).
Thomas Carothers, 'The Rule of Law Revival' in Promoting the Rule Of Law Abroad (Brookings University Press 2010).
Volkmar Gessner and David Nelken(eds.), European Ways of Law: Towards a European Sociology of Law (Bloomsbury Publishing 2007).
Yves Dezaley and Bryant Garth, The Internationalisation of Palace Wars: Lawyers, Economists and the Contest to Transform Latin American States' (The University of Chicago Press 2002).
Journal Articles
Adriana Erthal Abdenur and Danilo Marcondes de Souza Neto, 'South- South cooperation and democracy in Africa: Brazil's role in Guinea- Bissau', (2013) 5 (2) Africa Review 104.
Bernard Sapolsky, 'Language Policy in Portuguese Colonies and Successor States', (2018) 19 Current Issues in Language Planning 62.
Clemens Six, 'The Rise of Postcolonial States as Donors: A Challenge to the Development Paradigm?', (2009) 30 Third World Quarterly 1103.
Cristina Yumi Aoki Inoue and Alcides Costa Vaz, 'Brazil as 'Southern Donor': Beyond Hierarchy and National Interests in Development Cooperation?', (2013) 24 (4) Cambridge Review of International Affairs 507.
Cristina Yumi Inoue and Alcides Costa Vaz, 'Brazil as 'Southern Donor': Beyond Hierarchy and National Interests in Development Cooperation?', (2013) 25 (4) Cambridge Review of International Affairs 507.
Elizabeth Boyle and John Meyer, 'Modern law as a Secularised and Global Model: Implications for the Sociology of Law', (1998) 49 (3) Soziale Welt 213.
Hansjorg Strohmeyer, 'Collapse and Reconstruction of a Judicial System: The United Nations Missions in Kosovo and East Timor', (2000) 95 The American Journal of International Law 46.
IC Leite et.al., 'Brazilian South-South Development Cooperation: The Case of the Ministry of Social Development in Africa' (2015) 27 Journal of International Development 1446.
Kelly Taylor-Leech, 'The Language Situation in Timor- Leste', CURRENT ISSUES IN LANGUAGE PLANNING Vol. 10 (2009)1.
Oliver P. Richmond and Ioannis Tellidis, 'Emerging Actors in International Peacebuilding and Statebuilding: Status Quo or Critical States?', (2014) 20(4) Global Governance 563.
Paolo de Renzio and Jurek Seifert, 'South- South Cooperation and the Future of Development Assistance: Mapping Actors and Options', (2014) 35 (10) Third World Quarterly 1860.
Sally Merry, 'Measuring the World: Indicators, Human Rights and Global Governance', 2011 52(3) Current Anthropology 83.
Thomas Carothers 'The Rule of law Revival', (1998) 77 (2) Foreign Affairs 95.
Working Papers
Bruno Pino, 'Brazilian Cooperation: A Model under Construction for an Emerging Power', ( Real Instituto Elcano 2010) < https://www.cbd.int/financial/southsouth/brazil-cooperation.pdf> accessed on 30 May 2019.
C Schläger, 'New powers for global change? Challenges for international development cooperation: the case of Brazil' ( Briefing Papers, no 3, Friedrich Ebert Stiftung, 2007) http://library.fes.de/pdf-files/iez/global/04719.pdf accessed on 30 May 2019.
Kirsti Samuels, 'Rule of Law Reform in Post- Conflict Countries: Operational Initiatives and Lessons Learnt', (2006, Social Development Papers: Conflict Prevention and Reconstruction Paper No. 37).
Websites
Lindsey Greising and Nelinho Vital, ' Legal Research in Timor-Leste', < http://www.nyulawglobal.org/globalex/Timor_Leste.html#Courts> accessed on 30 May 2019.
Moises Naim, 'Rogue Aid', (Foreign Policy, 15 October 2009) https://foreignpolicy.com/2009/10/15/rogue-aid/ accessed 30 May 2019.
Mong Palatino, ' East Timor Australia Spying Scandal' ( The Diplomat, 16 December 2013) < https://thediplomat.com/2013/12/east-timor-australia-spying-scandal/> accessed on 30 May 2019.
Organisation for Economic Co-operation and Development, 'Principles for Good International Engagement in Fragile States' (Development Assistance Committee, Paris 2007) <https://gsdrc.org/document-library/principles-for-good-international-engagement-in-fragile-states-and-situations/>.
Ricardo Oliveira Dos Santos, ' Developing Countries and UN Peacebuilding: Opportunities and Challenges', (E- International Relations 25 February 2019) < https://www.e-ir.info/2019/02/25/developing-countries-and-un-peacebuilding-opportunities-and-challenges/> accessed on 30 May 2019.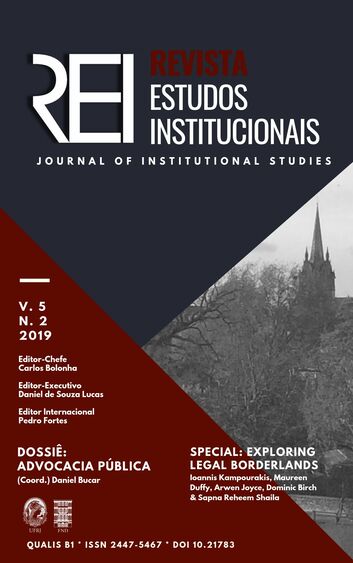 Downloads
Como Citar
Shaila, S. R. (2019). SHIFTING THE LEGAL BORDERLANDS OF RULE OF LAW PROGRAMS - BRAZILIAN COOPERATION AGENCY (ABC) AND PUBLIC DEFENDERS' OFFICE IN EAST TIMOR. REI - REVISTA ESTUDOS INSTITUCIONAIS, 5(2), 747–776. https://doi.org/10.21783/rei.v5i2.376
Seção
Artigos Internacionais
Licença
Autores que publicam nesta revista concordam com os seguintes termos:
Autores mantém os direitos autorais e concedem à revista o direito de primeira publicação, com o trabalho simultaneamente licenciado sob a Licença Creative Commons Attribution que permite o compartilhamento do trabalho com reconhecimento da autoria e publicação inicial nesta revista.
Autores têm autorização para assumir contratos adicionais separadamente, para distribuição não-exclusiva da versão do trabalho publicada nesta revista (ex.: publicar em repositório institucional ou como capítulo de livro), com reconhecimento de autoria e publicação inicial nesta revista.
Autores têm permissão e são estimulados a publicar e distribuir seu trabalho online após a publicação na revista.